Helping you comply with CDC Guidelines
Following CDC recommendations around vaccine refrigerators and freezers will help ensure the effectiveness of vaccinations, reduce cost associated with discarded vaccines, as well as reduce the direct and indirect costs of revaccination.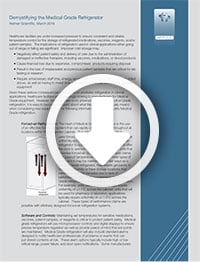 Vaccine Storage Equipment:
CDC recommends stand-alone units or pharmacy grade/purpose-built units.
CDC does not recommend and VFC does not allow storage of any vaccine in a dormitory style (or bar-style) refrigerator under any circumstances.
Set refrigerator temperature mid-range to achieve an average of about 40°F (5°C).
The freezer should maintain temperatures between -58°F and +5°F (-50°C and -15°C).
To learn more about the challenges and risk of safe vaccine storage, download the article by filling out the form to the right. Want to speak with a Helmer sales representative? Contact us today.